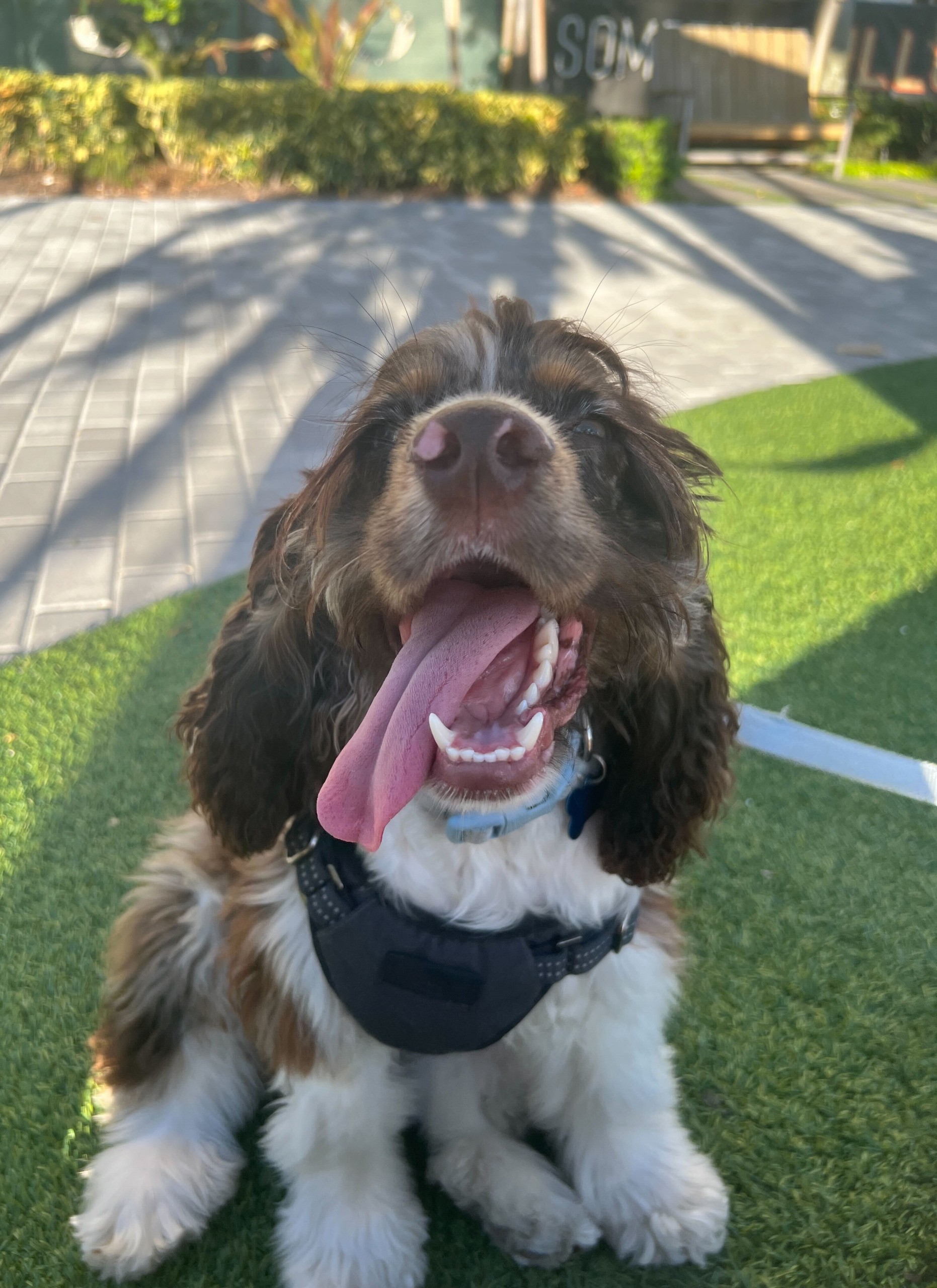 Pawtecting Against Heat Risk in Miami-Dade County, Part 1
If you live in Miami, or spend any amount of time here in the summer months, you know it gets hot. In general, we like to think we are pretty accustomed to the high temperatures. After all, many of us grew up visiting Miami Beach in the summer, so we mostly know to shade ourselves from that midday sun and to not throw off those sandals when we reach the sand, lest our feet get a low-grade burn. Yet, even for us locals the heat is definitely getting hotter, and the rising temperatures are a problem for more than just people. 
On a recent Zoom call (about Active Design, of course!), we exchanged hellos and weekend stories while waiting for others to join. The conversation quickly turned to our beloved pups, Emma and Whiskey. As it turns out, we had had similar experiences – both of our pets recently had trouble while out for a walk because the hot weather made the asphalt and sidewalks even hotter. After a short walk, Emma had gotten home with a visible limp and ended up with a bandaged, out of commission paw for several days. Whiskey and her owner, on the other hand, had to beg for some paper towels at the Lincoln Road Sketchers because the heat caused Whiskey some indigestion, to put it kindly. The thing is, neither of us are inexperienced dog owners, and we've lived in Miami for decades, so what happened?
The Risk of Heat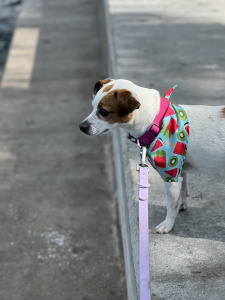 One of the things we learned is how an increase in air temperature means a large increase in surface temp, especially for asphalt. So, when it's 87 degrees outside, asphalt can reach 140 degrees. At 95 degrees, asphalt temperatures soar above 150. When you take into account how dog owners walk 22 minutes a day more than the average person, and daily temperatures in July and August soar into the high 90s, some things become quite clear.
And even if you AND your four-legged friend wear shoes, hot surfaces are not the only thing you have to worry about.
For starters, if not properly addressed, heat can become a significant threat to humans and pets alike, even as we strive to engage in health-promoting activities like walking, jogging or playing sports outdoors. Health complications that both humans and dogs can suffer from prolonged heat exposure or extraneous activity in high heat conditions include dehydration and heat exhaustion, which if not addressed properly can lead to heat stroke. Heat strokes can be fatal, especially for humans and pups with preexisting conditions that make body temperature regulation harder (diabetes, respiratory diseases, cardiovascular diseases, etc.).
Heat exhaustion in humans feels like dizziness, headaches, cramps, intense thirst, rapid heartbeat and weakness. In dogs, you must watch out for extreme panting, drooling, dry nose, weakness, and – as Whiskey demonstrated to the Sketcher's patrons – vomiting.
Fighting the Heat
Happily, there are a number of tactics ready to be deployed to reduce heat risk and avoid putting people in the position of having to choose between engaging and healthy activity and staying safe. As you might expect, keeping temperatures under control by increasing tree canopy and/or adding shade structures tops the list.
Tree cover can reduce land surface temperature by 18 to 36 degrees Fahrenheit in the summer, and air temperatures can be reduced by up to 3.6 degrees Fahrenheit.  Preserving the existing canopy and adding to it not only helps keep air and surface temperatures at manageable levels, but has other quality of life benefits including improving air quality by absorbing carbon dioxide and absorbing excess runoff during storm surges. And while trees should always be the preferred shading option, providing more shade, even if man-made, can still be beneficial for lowering heat exposure, allowing people (and their dogs) more outside time.
In the new Active Design 'Emerging Threats' section, we dive into the benefits of growing our Urban Tree Canopy and other strategies for addressing heat risk in our neighborhoods. As we work with Miami-Dade County and several municipalities, we hope to see greater emphasis placed on these relatively low-cost and high impact changes in the immediate future. If you're interested in learning more or would like to receive a copy of the new 'Emerging Threats' work, drop us a line at [email protected]. 
In our next post, we will discuss more ideas for adapting our County to the increasing heat, without compromising our community member's paws, health, or ability to live an active lifestyle.
And whether you came for the design or the pups, make sure to check out MCAD'S PAWchitecture design and build competition! In partnership with The Humane Society of Greater Miami and Aventura Mall, competing teams will create the best, most innovative homes and play stations for our favorite furry friends.Visit aia-mcad-events.org/pawchitecture to stay up to date and receive details about the teams' final installation at Aventura Mall in November, 2022.